Speed a half-marathon North of the capital WRF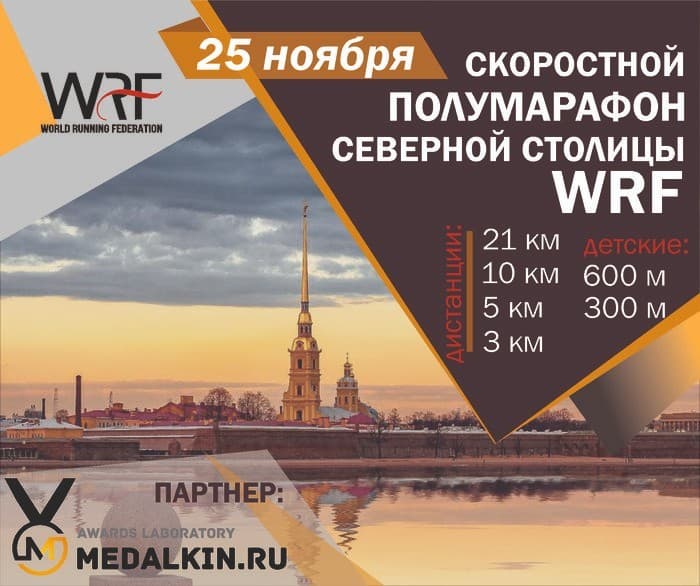 Attention! This page has been automatically translated
Enter your name in the history of the Russian race!
Speed a half-marathon North of the capital WRF: video
Speed a half-marathon North of the capital WRF: race description
Run on the result!
World Federation of Running WRF (World Federation Running) continues a series of cross-country competitions in Russia, with the assignment of sports categories and ranks for the version of WRF.
Check
Registration sites: wrf.life, russiarunning.com
Start-up package
The start time of the issuing of starter packs: 2 Nov 2018 10:00-20:00 GMT time. Saint-Petersburg
Starter pack
Individual chip timing
Member number
Protein bar
Drink
Exclusive t-shirt (optional)
Documents for getting a starter pack
the document proving the identity and age;
original or copy (if the original) the certificate of the medical organization
Medical certificate
The certificate must comply with the requirements of order of Ministry of health of the Russian Federation No. 134Н and should be issued not earlier 20.05.2018 G.
The race
Location: Saint Petersburg
Date: 03.11.2018 year.
Schedule
8-00 -9-00 opening dressing rooms and Luggage storage
9: 00 am Grand opening
9-15 the warm up in the starting town for the children's race (300m-600m)
9: 30 children's race start 300m
9-40 children's race start 600m
9-50 the warm up to the starting town for the first race (3km, 5km, 10km)
10-00 start of the race at 3km
10-10 the start of the race 5km and 10km
10-15 award winners-children's race
11-30 start
11-40 the start of the race 21km
11-50 winners of the race at the 3km, 5km, 10km
14: 30 awarding the winners of the 21km race
14-50 - 15-50 Entertainment
16: 00 Closing ceremony
Helpful information
All races under half marathon scheduled overlap of the streets of St. Petersburg
high-precision timing system
a decent starter pack party exclusive and premium attributes to each
award winners in the age groups
the star team of Celebrity
modern show program
and much more...
For participation are invited both Amateurs and professionals.
Distances information
Distance: 300 m, 600 m, 3 km, 5 km, 10 km, half marathon.
Requirements for participants
To participate in the Event is open to Amateurs and professionals run from 4 years and older.
Contacts
Phone: 89108684227, 89219090626
Email: info@wrf.life