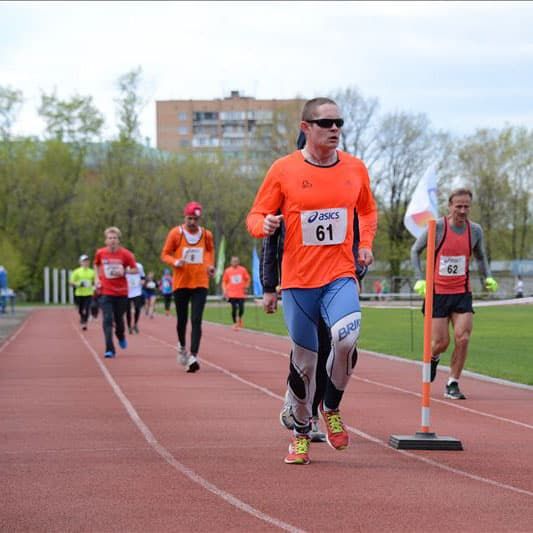 Attention! This page has been automatically translated
Moscow marathon "DAY RUN". The Championships of Russia and Moscow for the daily run
PARSEC "Day Run": video
PARSEC "Day Run": race description
Check
Applications for participation in the marathon "Day Run" will be given on the website zareg.me.
The application must indicate the surname, name, patronymic, day, month and year of birth, sports qualification, sports club. For Muscovites specified administrative district.
Participants registering on the maximum distance (24 hours), provide to the credentials Committee an individual or team application official admission of the doctor (the Department's Letter No. 11-12 dated 25.04.2006 386/6 g).
Applications for the relay 10 x 10 km relay participants 10 x 10 km team grant application in the mail.
Applications for participation in open tournaments: the open starts recorded on the day of event, 1 hour before the start.
The race
The competition is held may 13-14, 2017 at the stadium "Iskra", Agriculture, 26. The duration of the competition 2 days.
Schedule
May 13:
10:00 - 11:00 Registration of participants
11:30 opening Ceremony, performances
12:00 start of the marathon "Day Run"
12:30 Start relay 10 x 10 km
14.00 – 20.00 Open competitions (athletics, Darts, bowlsport)
May 14:
10.00 Open starts (continued)
12:00 finish of the marathon "Day Run"
12:30 Award ceremony and cultural program
13:00 – 14.00 Summing up.
Distances information
Competitions personally-command. Relay race of 10 people * 10 km and 24 hour run held in the stadium. Track length of 400 meters.
Requirements for participants
Entry is open to everyone 18 years and older.
Contacts
Russia, 117342, Moscow, Vvedenskogo str., 1, club "Parsek",
Tel/Fax: +7 (495) 330-6710
um@parsec-club.ru