Murmansk marathon "polar night"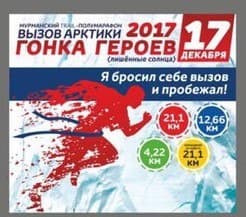 Attention! This page has been automatically translated
Murmansk TRAIL - half-marathon " CHALLENGE of the ARCTIC. RACE OF HEROES 2017"
Murmansk marathon "polar night" : video
Murmansk marathon "polar night" : race description
Check
Online registration is on the Internet page 03 Oct 2017 09 and ends Dec 2017 23:00 GMT.
Start-up package
Each participant paid the registration fee online to 09.12.2017 year, the day before the race, i.e. 16.12.2017 (Saturday) receives a starting package of the participant.
Documents for getting a starter pack
The participant is considered fully registered after payment of the entry fee. The entry fee can be paid online only.
Starter pack
diploma of the participant;
health insurance;
the starting badge number;
4-pins;
gum;
a diagram of the route with navigation;
a coupon for a spaghetti party and also gifts from sponsors of the event.
Medical certificate
Party, paid the entry fee confirms your participation and take personal responsibility for their health, degree of physical preparation and technical readiness.
The race
Russia, Murmansk, street Fires of Murmansk, 1, Centre for recreation and tourism "Ogni Murmanska"
Schedule
9:00 Gathering and registration of participants at the venue ; .
10:00 opening Ceremony of the event; .
10:30 pre-start warm-up; .
10:50 Briefing at the start line ; .
11:00 Start of race at all of course .
11:20 the start of the corporate relay;
14:00 Summing up and rewarding of winners.
Distances information
Distance: 21.1 km, 12,66 km to 4.22 km.
Requirements for participants
To participate in the event at a distance of 21.1 km (half marathon), 4,22 km (small satellite) and 12,66 km (great companion) is open to all interested persons older than 18 years, paid the entry fee.
Contacts
The project is the Union of the North For
Crunch Sergey,
Phone: +7 911 31 28 303
Sunburns Andrew
Phone: +7 921 72 43 064
Email: polarday51@yandex.com