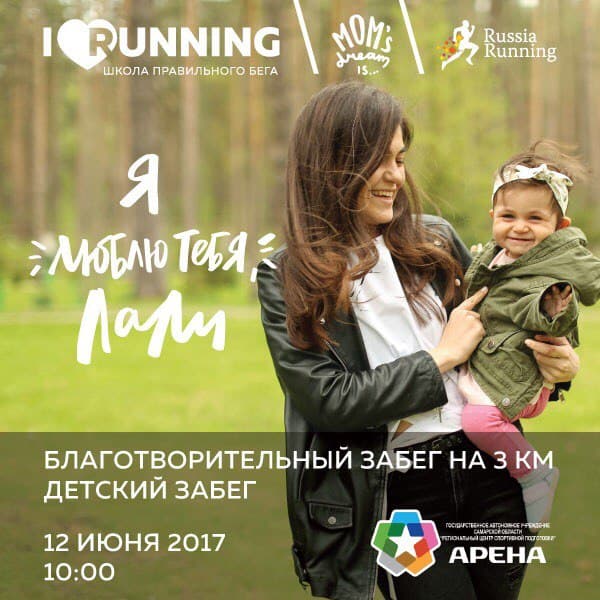 Attention! This page has been automatically translated
CHARITY RUN for 3 miles "I LOVE YOU, LALI" to support the collection #SCOREVALUE.
I love you Lali: race description
Check
Pre-registration on the website RussiaRunning.
Start-up package
Issuing starter packs will be 12.06.2017 from 9 to 9.45. STRICTLY at 9: 45 we will close the results.
Starter pack
starting a t-shirt "I LOVE YOU, LALI"
member number
The race
Starts: 12.06.2017 at 10:00
Schedule
09:00 - Opening start-finish town start issuing starter packs
10:00 - Grand opening event "Lali, I love you"
10:05 - Warm-up participants-children's race
10:10 - children's race Start
10:20 - Start of the race for the little ones
10:30 - Warm-up for participants in a distance of 3 km
10:40 - Start of the race 3 km
11:20 - Flashmob "HEALTHY LALI"
11:30 - Delicious surprise from DODO - PIZZA
11:35 - End cross-country events
11:45 - the Beginning of a charity race on the karting PRO-KART
14:45 - the End of charity race on the karting PRO-KART
15:00 - Closing of event sites
Requirements for participants
Come on start it is necessary already dressed in running shape!
Contacts
I LOVE RUNNING TOGLIATTI
Phones: 8 (8482) 615 - 855
email: tlt@iloverunning.ru