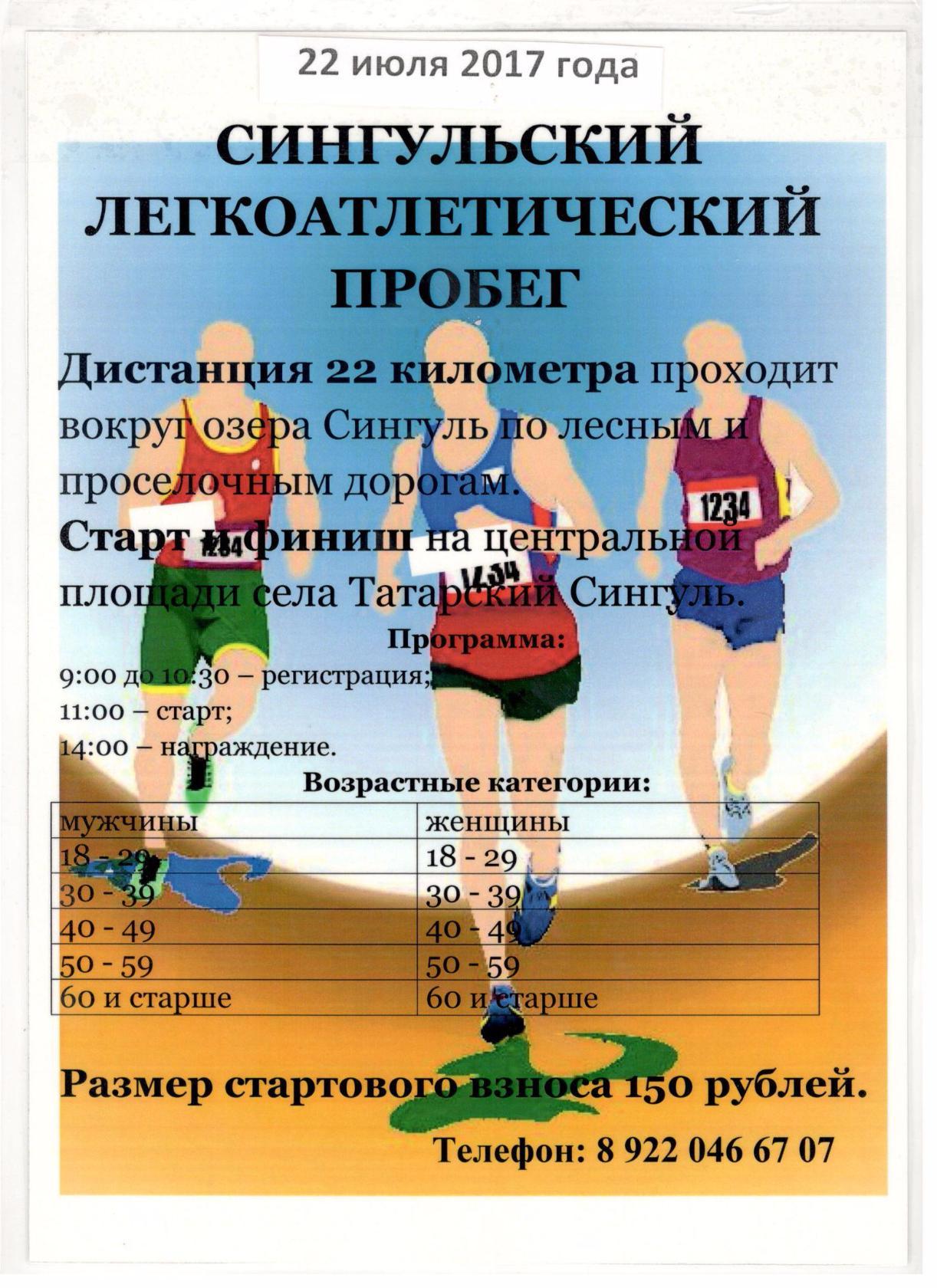 Attention! This page has been automatically translated
City
Yalutorovsk
Race type
Trail
Possible
date
30.07.2022

!

Distances

5 km




23 km

Price
Zero
Ingulsky race: race description
Check
Registration for the run is a personal message on the page: https://vk.com/singulskiyprobegor email to: scorohod72.rus@mail.ru or by phone: 8 922 046 67 07
The race
The race will be held at: Central square of the village Tatar Singul
Starter pack
produced track mileage
on 23 km of the disposable bib number
5 km return Mike's number
at the distance of 23 km from four food item and refreshment (water, wet sponges)
all participants water, fruit and chocolate or fruit bars at the finish
Schedule
9:00 - Opening of the launch pad, registration of participants and issuance of offer
10:30 – Opening of "Singlestage path", warm up, official part
11:00 – Start of 23 km
11:05 – Start on a distance of 5 km
12:00 – Rewarding of winners and prize-winners of the race 5 km
14:00 – Rewarding of winners, closing of the mileage
Helpful information
Participants are responsible for their health and physical fitness to the run.
Distances information
The main distance is 23 kilometres, around the lake of Singul. Start and finish at the Central square of the village Tatar Singul. Road surface: asphalt, unpaved forest roads, sandy roads. During the race provided the kilometer markings, direction signs and turns, canteens and refreshment (water, wet sponges).
The distance of the satellite of 5 km on asphalt and dirt roads of the village Tatar Singul. Start and finish at the Central square.
Requirements for participants
It is not open to all interested persons 18 years and older.
Taking part in the Competition, the participant confirms that undergoes regular medical examinations and did not have any medical or other health limitations to exercise. Responsibility for health and safety lies with the party, as signed receipt when receiving the room.
For the health and safety of the participants under 18 years are their parents or coaches, this collective application, a certified sports clinic or other medical facility or medical opinion-access to physical culture and sports.
Contacts
Guriev Yu.
Email: ygservis-2008@mail.ru
Phone: 8-922-046-67-07
Элемент не найден!