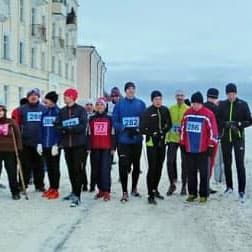 Attention! This page has been automatically translated
Traditional athletics for Christmas
Christmas run: race description
Check
To register for the event 07.01.2018 from 10:00 to the address: Arkhangelsk, emb. of Northern Dvina, d. 110, building 1.
Start-up package
To start the participant package will be in the day of the race from 10:00 to 11:00 in the club Gandvik.
The race
Mileage will be 07.01.2018 in Arkhangelsk.
Start at 11.00. from the club Gandvik.
Distances information
Distance for men and 10 km for women – 6 km. For all comers – distance 1 km without timing.
Requirements for participants
Entry is open to all comers, having no medical contraindications to Jogging..
Contacts
email: gandvik29@rambler.ru
Phone: 8 8182 21-58-89