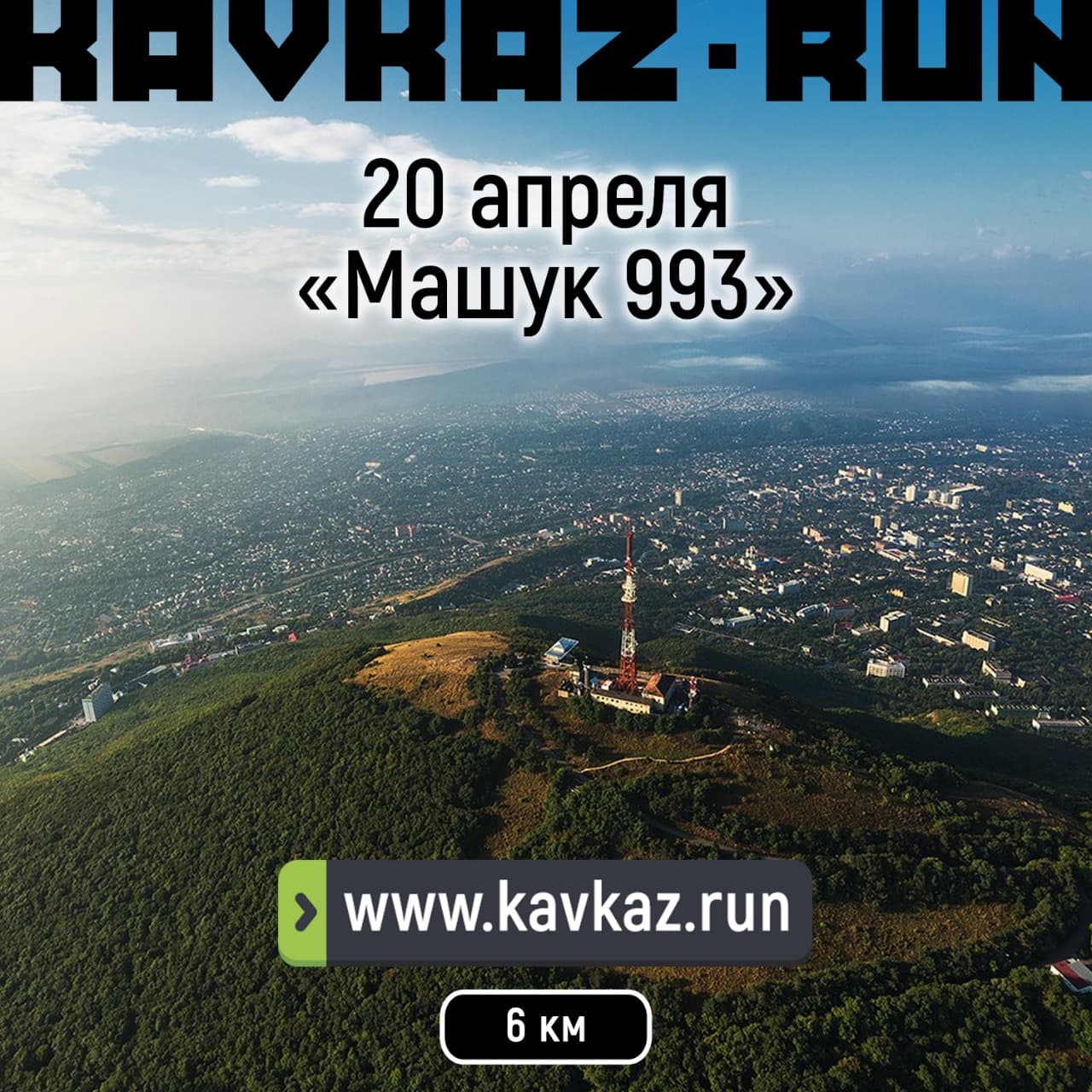 Attention! This page has been automatically translated
Asphalt unique vertical race to the top of Mashuk mountain, at altitude of 500 metres. Each finisher will have to wait for stunning views of the local mountains-laccoliths, panorama of the main Caucasus ridge and the Elbrus dazzling and glory, honor and respect!
MASHUK 993 KAVKAZ.RUN: video
MASHUK 993 KAVKAZ.RUN: race description
Check
Electronic registration is open from 01.01.2018 for 29.04.2018 here.
April 30, 2018 at 09:00 at the address: Pyatigorsk, Lenin square.
Start-up package
30 APR 2018 09:00 to 15:00 at the address: Pyatigorsk, Lenin square.
Starter pack
Starting number
Individual chip timing
Medal (upon completion of course)
Documents for getting a starter pack
The admission of the participant to the Race and getting the party starter package is carried out by personal submission of the following documents:
the original ID card
the original medical with the seal of the issuing institution, signed and stamped by the physician, which should indicate that the participant admitted to the competition on the selected distance or a greater distance
Medical certificate
The certificate should be issued not earlier than 6 months before the date of the competition.
The race
Asphalt unique vertical race to the top of the famous mountain of Mashuk.
Location of start: Stavropol Krai, Pyatigorsk, Lenin square.
Start at 16:00
Schedule
9:00 Start of the first day of the EXPO, issuing starter packs, registration on the course, taping, massages, personification t-shirts, engraved medals
11:00 Start of the lecture
12:00 Start of the children's zone
12:30 free walking tour for visitors to the city (2.5 hours)
15:00 finish issuing starter packs and registration of race participants at the Mashuk
15:30 warm up
16:00-START of the race at Mashuk
17:45 Award winners at a distance of 6.66 miles
18:00 Pasta Party
19:00 Closing of the track race at the Mashuk
Helpful information
On the course, Mashuk 666 are points of power that are available to participants. In food items include water, sports drink, fruit.
Distances information
Distance: 6 km
Altitude: 500 m
Requirements for participants
To participate in the race Машук993 open to all interested persons 18 years and older who have paid the registration fee and without medical contraindications.